---


A-Z Artist Index
Compilations
Record Labels
Media
Help Us!
Contact Us
Resources
Timeline
---
From: Limerick

Active: (solo) 1970s onwards

Style: singer-songwriter



Bio:

Following the break up of Granny's Intentions in 1972, Johnny Duhan teamed up with guitarist Ed Deane and played the folk circuit for a few years as Brogue who were unrecorded.

In the mid-70s he joined St.James Gate, named after the location of the Guinness brewery in Dublin. This was a UK-based band with Irish connections being formed by Ruan O'Lochlainn, who'd just left Bees Make Honey, along with drummer Bob Benburg who was also playing in Supertramp. St.James Gate rehearsed for some time and completed several recordings at Rockfield. Apparently an album was more-or-less completed, but it was never released as the band split up before any record deal could be finalised . Duhan had pulled out by then, re-thinking the commitment when it came time to sign the record company contract. The St.James Gate recordings have yet to see the light of day.

He was then approached by Italian-American independent producer Steve Verocca (Link Wray, Kevin Coyne, The Bintangs), who recognised Duhan's songwriting talents. Duhan made demo recordings for an LP for Verocca who then hawked the demos around various record companies, eventually working out a deal with Dark Horse Records. The plan was that Duhan would record the LP in Los Angeles. However, Duhan turned down the five year production deal Verocca offered him as it gave Verocca 50% of all earnings! All attempts at renegotiation failed and the whole deal fell through. Duhan never got the demo taoes back. These are presumably still in Verocca's possession.

Duhan continued to record demos which he sent to various record companies. R.S.O. Records brought him over to London in 1978 to record some demos but ultimately he agreed a deal with Arista Records. He acquired a new manager with whom he shared a flat in Hampstead and went into the studio with producer Paul Samwell Smith. However, the recording process proved difficult, as he and Samwell Smith did not see eye to eye, and his manager's rock & roll lifestyle did not appeal. The LP was completed and a single released as a taster for the album, but then Arista was taken over by Ariola and the LP was cancelled, Duhan was dropped by the new regime, furthering his disillusionment with the rock'n'roll fantasy world. He wrote an unpublished novel called 'The Long Enduring' based on these experiences. One positive outcome of the Arista fiasco was Duhan was able to afford a house in Galway, where he settled with his family.

In 1981 his new manager Terry O'Neill secured a deal with Philips Records in Ireland for the release of the cancelled Arista LP. He began to perform live again for the first time since 1974, opening for Scullion in Galway, Steve Miller Band in Dublin and appearing at the Lisdoonvarna Festival. He was also involved in the Grannie's reunion gigs in 1983.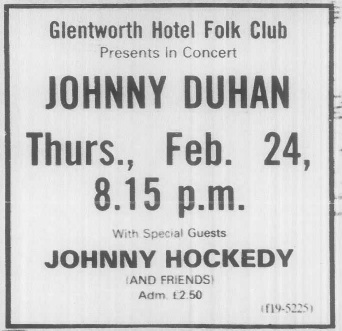 Johnny Duhan at the Glentworth Hotel Limerick in Feb 1983
with special guest Johnny Hockedy (and Friends).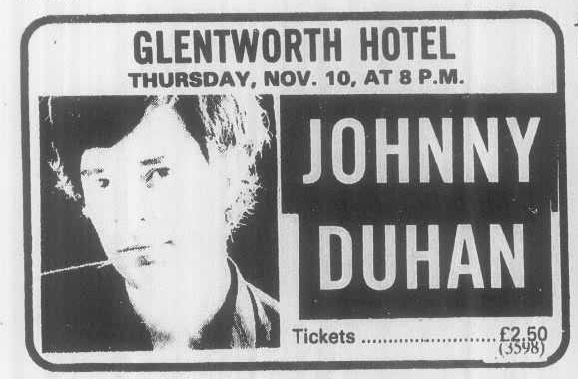 Another Glentworth Hotel date in November 1983





A gloomy period is documented on the Current Affairs LP (1984). There was a four year gap before the acclaimed Reefer And The Model soundtrack in 1988. His career revitalised, Duhan continued to record and perform for the rest of the decade and beyond. He has released a number of albums on his own Bell label via Claddagh Records.






Discography:

• Molly / Animal Training
7" - Arista Records - ARIST-330 - UK - 1980 - no PS
7" - Arista Records - AAJ 1081 - South Africa - 1980 - no PS
Produced by Paul Samwell-Smith and Alun Davies.


Notes:
This UK 45 is undoubtedly Duhan's rarest. The label states the track is Taken from the Album "Johnny Duhan" SPART 1120, but this release was cancelled.



• Molly / Ocean of Motion
7" - Philips Records - 6156 027 - IRL - 6/1982 - no PS
Same recording of Molly as the 1980 single.




• self-titled
LP - Arista Records - SPART 1120 - UK - release cancelled (1980)
LP - Philips Records - 6373 019 - IRL - 1982


Notes:
The Arista release was shelved, possibly the result of a change of managment at the label. The Polygram PR sheet for the albums says.."Johnny Duhan's first album is a mixture of songs he wrote between the breakup of Granny's Intentions in 1972 and 1980 when the album was recorded. The album was produced by two of the best producers in the business, Paul Samwell-Smith and Alun Davies... Kevin McAlea who tours with Kate Bush and Barclay James Harvest plays keyboards and the other musicians include Gerry Rafferty's bass player Gary Taylor and Irish guitarists Ed Deane and Gary Moore. Born in Limerick and now living in Galway Johnny will be best remembered as the dynamic lead singer with Granny's Intentions. Lately Johnny has started doing some live gigs. When Scullion got back together recently it was Johnny who played at their two sell-out gigs in Galway. A superb electric set at Lisdoonvarna meant an immediate invitation to play at Steve Miller's sell out concert at the stadium in July. More recently a variety of artists are showing an interest in Johnny's skill and versatility as a songwriter".
Gary Moore appears on one track ("Ocean of Motion"), while Robbie Brennan plays drums.



• Girls In My Memory / Two Minds
7" - Philips Records - 6156 030 - IRL - 9/1982 - some with PS (rare)


• It Can Happen To You / El Salvador
7" - Crashed Records - CAR 49 - 8/1983 - no PS
Entered the Irish Top 30 charts on 12 August 1983 for two weeks, peaking at #24.


Notes: Recorded at Lombard Sound. A Plastic Record Production.
Produced by Donal Lunny, Andrew Boland & Johnny Duhan.
A double A-side: "It Can Happen To You" is marked as the AA-side, and "El Salvador" as the A-side, which makes it the B-side. Clear?




• Turn To Crime / 100 Miles
7" - Plastic Records / Auric Records - TON 002 - IRL - October 1983 - PS


Notes The backing band on this single was the guts of Moving Hearts - Donal Lunny (keyboards), Eoghan O'Neill (bass), Keith Donald (sax) and Matt Kelleghan (drums) - plus guitarist Greg Boland (Supply Demand & Curve, Scullion), keyboard player Andrew Boland and drummer Robbie Brennan, who'd just left Auto Da Fe. Recorded at Lombard Studios, Dublin. Produced by Donal Lunny and Johnny Duhan.
The labels say Auric Records Ltd, licensed to Polygram Records (Ireland) Ltd.



• Eve Of Destruction / El Salvador
7" - Plastic Records - TON 003 - IRL - 1983 - No PS
A-side produced by Johnny Duhan & Andrew Boland.
Same version of "El Salvador" as appeared on the B-side of "It Can Happen To You".
Auric Records Ltd. License to Polygram Records Ireland.
Some labels misprint the title "An Eve Of Destruction".


• Shot Down / When You Appeared
7" - Plastic Records - STONS 301 - IRL - 1984 - No PS
Entered the Irish Top 30 charts on 12 August 1984 for one week, peaking at #29.


• Woman / Current Affairs
7"- Plastic Records STONS 302 - IRL - 1984 - No PS
Both tracks off the album.



• Current Affairs
LP - Plastic Records - TONS 737 - 1984 - insert


• Reefer and The Model OST
LP - Trax Records - MOMENT 119 - IRL - 4 August 1988 - pre-release version
LP - Trax Records - MOMENT 119 - IRL - 1988




side one:
After The Dream
The Reef
You Come Back Into My Life
Alone
Going to Aran

side two:
Car Chase
Louise
Dawn Flute
Hats
Sea Shanty
Birth
After The Dream reprise

Notes: The white label pre-release edition was given to journalists and some copies were reputedly available at the film premiere at the Savoy Cinema in Dublin on 4 August 1988, which was a benefit in aid of Film Base. This edition consists of a WLTP (German pressed) housed in a generic white cover with a front cover slick paste-on which reproduces the flyer for the Film Base benefit and includes a track listing.
Music by Johnny Duhan performed by Dolores Keane (vocals), Davy Spillane (whistles), Tony Maher (keyboards, accordion), Frank Colohan (guitar), Brendan O'Regan (bouzouki, banjo), Gerald O'Donoghue (bass, percussion) and Noel O'Brien (bodhran). Music co-ordinator Peter Harkin.



• Dolores Keane - After the Dream / Johnny Duhan - You Came Back Into My Life
7" - Trax Records - FTS 101 - IRL - 1988 - No PS


Notes:
Both tracks rom the "Reefer and The Model" soundtrack



• Family Album
LP - Round Tower Music - RTM LP 16 - IRL - 1990
CD - King Records - KICP 146 - Japan - 21 November 1991 - obi




side one:
The Room
Ordinary Town
Trying To Get The Balance Right
Young Mothers
Couple of Kids

side two:
Cornerstone
Well Knit Family
We Had Our Trouble Then
The Storm Is Passed
The Voyage

Notes: "Family Album was one of my most successful collections. The good songs on it were covered by Dolores Keane, Mary Black, Francy Conway and of course Christy [Moore], but the overall album was deeply flawed. In my eagernesss to offset the sombre tone of some of the darket songs, I came up with a series of pastiche numbers that had a bright but false ring. When the rights to the album reverted to me I decided I couldn't re-release it without getting rid of the dud songs. I believe the five new songs are the real thing"--Johnny Duhan in 2005, speaking about the repackaging of Family Album as The Voyage.
Credits:
Tony Maher - keyboards
Frankie Colohan - Spanish and acoustic guitars
Billy Robinson - bass
Mike Arrigan (of The Fuze) - drums
Roy O'Connor - tuba
Morris Maguire - fiddle
Carl Hession - string arrangements
Produced by Johnny Duhan. Engineered by Gerald O'Donoghue at Greenfield Studios, Headford Co.Galway.



• Ordinary Town / We Had Our Troubles Then
7" - Round Tower Music - RTMS 28 - 1990 - PS - insert
Comes with an A 4 Promo Sheet



• Just Another Town
CD - Bell Records - BLCD01 - 21 September 1992
CD - Bell Records - BLCD07 - 2007 - reissue


• Don Quixote
CD - Bell Records - BLCD02 - 1994
Reissued as "To The Light" with bonus tracks.


Notes: With Frankie Colohan (guitar), Tony Maher (keyboards), James Blennerhassett (bass), Mickey Belton (drums), plus guests.



More titles:
BLCD03 Flame
BLCD04 Tree
BLCD05 The River Returning (2 December 2003)
BLCD06 The Voyage (2005)
BLCD07 Just Another Town (reissue) (2007)
BLCD08 To The Light (reissue of Don Quixote with bonus tracks)



See also: Granny's Intentions




Help!: We need your help to complete this entry. If you can tell us more about this band then please do! We welcome any corrections, missing details, connections to other bands, where are they now, etc. We also need photos, scans, copies of releases or live or demo recordings, and any other memorabilia gathering dust in the attic. If you can help, then please get in touch.


Last update: 9 September 2010.


---

A-Z Artist Index
Compilations
Record Labels
Media
Help Us!
Contact Us
Resources
Timeline
---