---


A-Z Artist Index
Compilations
Record Labels
Media
Help Us!
Contact Us
Resources
Timeline
---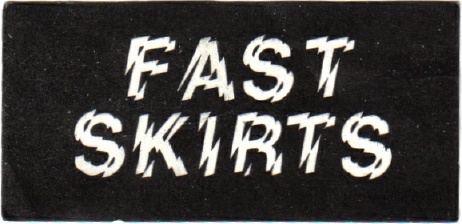 From: Dublin

Active: 1980-81

Style: punk/reggae

Lineup:
Joey Cashman - vocals/sax
Paul Aungier - guitar
Sarge O'Hara - keyboards
Ray Harford - bass
Kevin Leake - drums


The Fast Skirts, Joey Cashmen centre
Bio:

Dublin punk-reggae band fronted by Joey Cashman (ex Mod-L's). Paul Aungier and Ray Hartford had previously been in The Blackouts. John 'Sarge' O'Hara joined from the Mod-L's when they split in 1980.

The Fast Skirts played straight punk mixed with straight reggae rather than a Police style hybrid. They played the usual Dublin haunts -- McGonagles, Ivy Rooms, Summit Inn (supporting The Spies), etc -- often getting onto the bill as support act thanks to Joey's role as soundman. The band split when Joey Cashman and Sarge O'Hara joined DC Nien. Ray Harford was later with The Assembly and The Gorehounds.


Help!
We need your help to correct and/or complete this entry. If you can provide more information about this band, have scans, photos or any other memorabilia we can use, or spare copies of any releases, then please get in touch.
---

See Also: The Blackouts, DC Nien, The Mod-Ls


---

A-Z Artist Index
Compilations
Record Labels
Media
Help Us!
Contact Us
Resources
Timeline
---