---


A-Z Artist Index
Compilations
Record Labels
Media
Help Us!
Contact Us
Resources
Timeline
---
From: Dublin

Active: 1984-1990

Style: Garage/Trash

Lineup:
Brian MacGabhann - vocals
Colm O'Kelly - guitar
Alan Byrne - bass
Brian O'Kelly - drums
Gerry O'Boyle - drums

live at the Mean Fiddler, London circa 1988
Bio:

Dublin garage/trash band often compared to The Cramps and undoubtedly inspired by them and the hugely influential Rockabilly Psychosis & The Garage Disease LP released by Big Beat Records in 1984.

The band was formed in 1984 by three ex members of The Assembley (1981-83): Brian McGabhan, Colm O'Kelly (ex Revolver) and Ray Hartford (ex Fast Skirts, The Blackouts), together with twin drummers Brian O'Kelly (ex Scatcat, Van Hool, brother of Colm) and Gerry O'Boyle. Ray Hartford soon made way for Alan Taafe [AKA Alan Byrne?].

Early live shows consisted mostly of riotous cover versions. By 1985 they were writing original material and debuted on vinyl on the Guru Weirdbrain and Live at the Underground sampler albums. They supported touring bands and built a strong live reputation in Dublin. Alan Taafe left following an onstage fight and was John Byrne (ex Autobop, AWOL, but now a full time music journalist) became temporary bassist.

In 1986 the band made their TV debut on RTE (which show?) and appeared on Dave Fanning's show. Ray Hartford returned on bass for a few months (Feb-Sept 86) before Alan Taafe rejoined. They finally signed a deal with Idol Records in October 1986 (they also signed Guernica). The deal was for three singles and one LP, though only two singles would materialise.

Both Idol EPs were produced by Daniel Figgis AKA Binttii of Princess Tinymeat. The first of these "Bug Spud" was released in April 1987 and coincided with live gigs in the UK. It was well received, as was the follow-up "Cargo Cult" LP in November.

Idol Records ran into trouble in 1988 and "Eyeball Soup", the Gorehounds third single, was shelved, together with the planned debut LP. The label folded the same year. Valerie McGlynn (ex Lolitas) took over on bass in June 1988 after Alan Taafe exited. The band then struck a deal with the New York based Big Chief label (not an ideal situation for a Dublin band, even if it is co-run by irish DJ Stephen Roche) and their debug LP finally came out in late 1989. "Semtex" collected all six tracks from the two Idol EPs and added four new recordings produced by Niall O'Sullivan. Brian O'Kelly left, followed by Gerry O'Boyle. Dave White (ex Modus Vivendi) became the bands sole drummer. The band split sometime in 1990.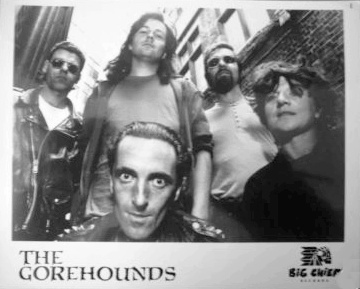 Gerry O'Boyle & Brian O'Kelly both worked in Base X Records in Dublin circa 1982-83 and later Comet Records. Brian O'Kelly is owner of Comet Records and regularly organises record fairs in Ireland.

Article from the Sunday Tribune dated 7.1.1990


Not to be confused with the US garage band from Portland, Oregon who released the "Halloween Everywhere" LP.





Discography

• various artists - Weird Weird World of Guru Weirdbrain
LP - Hotwire Records - HWLP8505 - IRL - August 1985
See Compilations section for full track listing.



track: The Halloween Meat-Axe Murder


• various artists - Live at The Underground
LP - Underground Records - UG 1 - IRL - late 1985 - poster & insert
See Compilations section for full track listing.



track: The Way I Walk


• various artists - Moonstruck Christmas Cassette
K7 - Moonstruck Records - MS 005 - IRL - 1986
See Compilations section for full track listing.



tracks: Ruby Don't Bring Your Guns To Town


• Big Spud EP
12" - Idol Records - 12ID1 - UK - April 1987
Produced by Binttii



side one:
Ruby

side two:
Gimme Gimme Gimme
Eyeball Soup


• Cargo Cult EP
12" - Idol Records - 12ID4 - UK - 5 November 1987



side one:
Cargo Cult

side two:
Day My Love Turned Sour
Ten Pair of Shoes


• various artists - Comet Tape 3
K7 - Comet Tapes - COMTAPE 5 - IRL - 1988
See Compilations section for full track listing.



tracks: Ten Pairs of Shoes


• Semtex
LP - Big Chief Records - BLS 1004 - USA - 1989
CD - Big Chief Records - BLSCD 1004 - USA - 1989



side one:
Ruby
Sinking Down
Eyeball Soup
The Drop Starts Here
The General

side two:
Cargo Cult
The Day My Love Turned Sour
Hall of Imbeciles
Ten Pairs of Shoes
Gimme Gimme Gimme
Notes:
Six of the ten tracks had previously been released on the two Idol EPs. The four new tracks were produced by the band and Niall O'Sullivan. A sticker on the cover carried the following quotes:
"Irish trash/dog rock cultists with Jesus and Mary Chain style hammering snare and nail scraping feedback..."--NME
"A truly awesome mix of choppy guitar lines, pounding bass and twin drums."--KERRANG
"Five slavering monsters from the psychedelic jungle, their sound combines tribal drumming, and controlled guitar feedback..."--HOT PRESS
Help!
We need your help to correct and/or complete this entry. If you can provide more information about this band, have scans, photos or any other memorabilia we can use, or spare copies of any releases, then please get in touch.
---

See Also: The Assembley


---

A-Z Artist Index
Compilations
Record Labels
Media
Help Us!
Contact Us
Resources
Timeline
---