---


A-Z Artist Index
Compilations
Record Labels
Media
Help Us!
Contact Us
Resources
Timeline
---
From: Dublin

Active: 1984-85

Style: Mod/Powerpop

Lineup:
Peter Devlin - bass & vocals
Ken Sweeney - guitar & vocals
Alan Bates - drums


Bio:

Mod-pop-punk trio reminiscent of the early Blades sound. Peter Devlin (from Newry) and Ken Sweeney (younger brother of David AKA George Sweeney of The Vipers) had previously played with The Temps.

"Three piece Dublin mod band. Despite being named after an early Who single, Instant Party's buzz-saw guitar lines and punchy powerpop borrowed more from The Undertones, The Starjets and The Moondogs than Pete Townsend & Co. Regulars supporting UK acts in Dublin's CIE Hall, a self produced demo found them getting gigs as far as Kildare, Belfast, Newry and Donegal where they opened for 80's Irish supergroup Cactus World News. Another memorable support saw the group support The Blades in Barry's Hotel. Splitting in 1986, bass player and singer, Peter Devlin joined his brother in The Devlins and after signing a megabucks deal, toured the US extensively while releasing three albums. Guitarist and songwriter Ken Sweeney was later signed to hip London Irish label Setanta Records (A House and Divine Comedy) under the name Brian for whom he did two albums and five singles. Drummer Alan Bates kept the mod flag flying and now supplies drums for Irish covers outfit The Modfathers."

Peter Devlin later formed The Devlins with his younger brother Colin. Ken Sweeney later recorded as Brian.

Peter Devlin once produced a mod fanzine titled Real Emotion which he handed over to Sean O'Gorman. Ken Sweeney is now a journalist.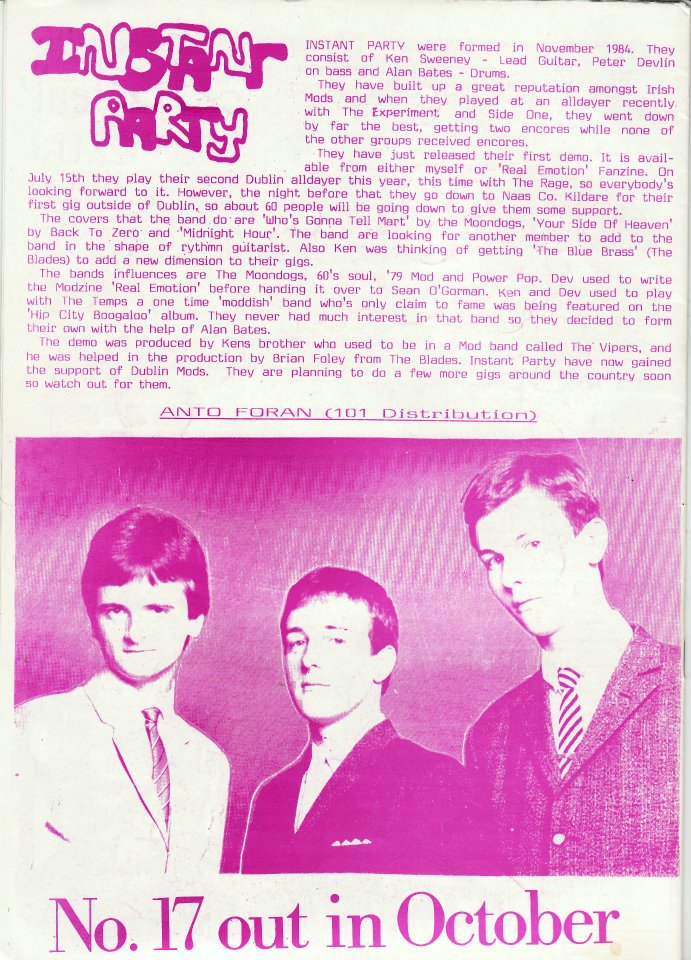 featured in In The City #16


Discography

• s/t EP
K7 - self-released/101 Distribution - no cat.nbr - IRL - 1984





tracks:
Times That Change Us
The Smalltown
Summertime
Notes:
Trend studios made two seperate batches, approx 700 cassettes were made in total. These were sold through mail order and at gigs. The tape received a lot of fanzine coverage in Ireland and the UK. The official distributor was 101 Distribution which grew out of the mod fanzine In The City.



• various artists - Sound Of Irish Mod 1979-1989 / Powerpop Gems #2
K7 - bootleg
See Compilations section for full track listing.

tracks:
Times That Change Us
The Smalltown
Summertime
Help!
We need your help to correct and/or complete this entry. If you can provide more information about this band, have scans, photos or any other memorabilia we can use, or spare copies of any releases, then please get in touch.
---

See Also: Brian

External Links: [www.thedevlins.com] The Devlins


---

A-Z Artist Index
Compilations
Record Labels
Media
Help Us!
Contact Us
Resources
Timeline
---