---


A-Z Artist Index
Compilations
Record Labels
Media
Help Us!
Contact Us
Resources
Timeline
---
From: Dublin/London

Active: May 1977-1980

Style: Punk Rock / New Wave


Lineup #1 (May 1977 - July 1978):
Paul Boyle - vocals & guitar
Ray Ellis - guitar & vocals
Paul Cusack - bass, replaced by Ivor Rowan late 1977
Dave Moloney - drums

Lineup #2 (July 1978 - Sept 1979):
Paul Boyle - vocals & guitar
George Sweeney - guitar & vocals
Brian 'Dolan' Foley - bass
Dave Moloney - drums


The Vipers second lineup pictured in December 1978,
l-to-r: Sweeney, Moloney, Boyle, & Foyle

Lineup #3 (Sept 1979 - xmas 1980):
Paul Boyle - vocals & guitar
George Sweeney - guitar & vocals
Brian Foley - bass
Bernie Smirnoff - drums
Bio:

The Vipers were formed in 1977 by Paul Boyle and Dave Moloney with original members Ray Ellis (gtr) and Paul Cusack (bass). Dave Moloney had been playing drums since 1974-75. He'd temporarily replaced Simon Crowe in the Boomtown Rats for a couple of months before Crowe returned, during which time he'd reheased with them but not played out. He was next in Slick Coupe & the Convertibles. Paul Boyle had spent six months in jazz-rock outfit No Buckets (who also spawned Trevor Knight of Auto Da Fe), a pub rock band called Starwalker and various garage bands with Paul Cusack, including Tumbling Dice. Some say Ray Ellis wasn't a full-time member but was only drafted for gigs.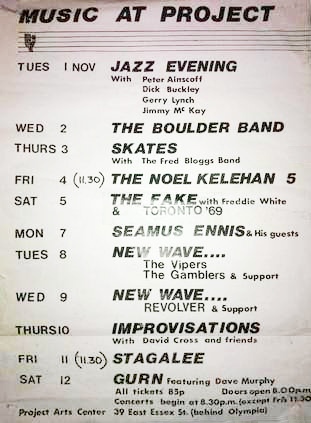 With The Gamblers at The Project, Nov 1977

Their debut gig was the Belfield Punk Festival (at UCD) in the summer of 1977, which was organised by The Radiators from Space and also featured The Undertones, Revolver and The Gamblers. A fight broke out during the opening band's set and and one member of the audience was stabbed. He later died in hospital. This event generated a lot of bad press for punk in Ireland.

Their second gig was again supporting The Radiators from Space, this time at Moran's Hotel. The Vipers quickly built up a following at Dublin's Magnet Bar with an exciting mix of punk rock and Kinks-inspired rhythm and blues. Their set included covers like "Till The End of the Day" (The Kinks), "Pool Hall Richard" (The Faces), "Teenage Depression" (Eddie & the Hot Rods), and originals like "Strut It", "Too Tough" and "You Had Your Chance". Ray Ellis was ejected and Boyle took over all guitar duties.

Boyle became an articulate spokesman for the developing Dublin punk scene. Cusack left in late 1977 to be replaced by Ivor Rowan. The band provided able support to the Clash on their second Irish visit and continued to garner wide local press coverage especially when rural gigs were cancelled in the wake of a media backlash following the incident at Belfield which was unrelated to the band or its followers..

above: The Vipers first lineup appearing on RTE's Our Times in 1977.
Initial promise evidenced by the band's first demo tape having evaporated by early 1978, Boyle and Moloney decided to relaunch the band and recruited George Sweeney, a founder member of Dublin's Rocky de Valera and the Gravediggers on lead guitar in July 1978. Sweeney had originally played with Adam Clayton in the Max Quad Band. Brian 'Dolan' Foley late of London punks the Gremlins followed in August on bass. After intensive rehearsals the Vipers resumed gigging and were immediately signed to Mulligan Records and recruited as support act on the Boomtown Rats UK 1978 Christmas tour. These gigs and an Irish mini tour with the Jam built momentum for the release of the single 'I've Got You/No Such Thing' with Paul Weller endorsing the release and band in several UK press interviews whilst Sounds magazine chose the record as 'single of the week' in December 1978. The piano on the single was played by Gaby Smyth (see also The Reasons).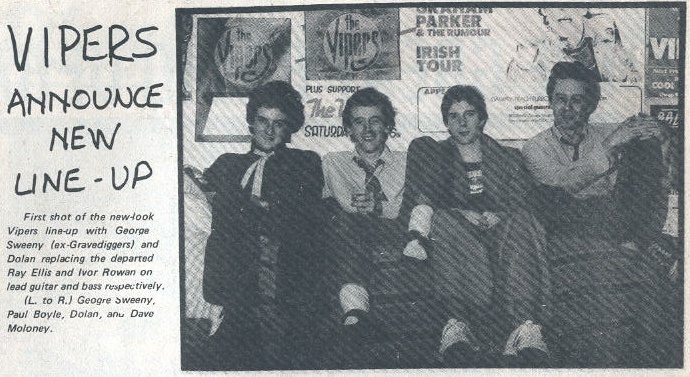 above: The Vipers second lineup announced in press, September 1978.
A session with John Peel followed in early 1979 ('Too Rough' 'You're So Strange', 'You're on Your Own Kid' 'Playin' the Game') and a move to London for the band. Major label interest resulted and Virgin Records installed the band at the Manor Studios to record demos for an album [Hot Press reported that these demos highlighted that the band "...suffered a lack of depth quality in their material when it came to the immediate crunch with Virgin", i.e. that they had not enough quality material to carry an album. Whether this is true or not, the Manor Studio demos have never seen the light of day]. After extensive gigging in London (Marquee, Musc Machine, Fulham Greyhound) and a 30 date tour with Thin Lizzy, the Vipers suffered a major blow with the departure of founder member Dave Moloney at the end of Lizzy's 'Black Rose' tour.....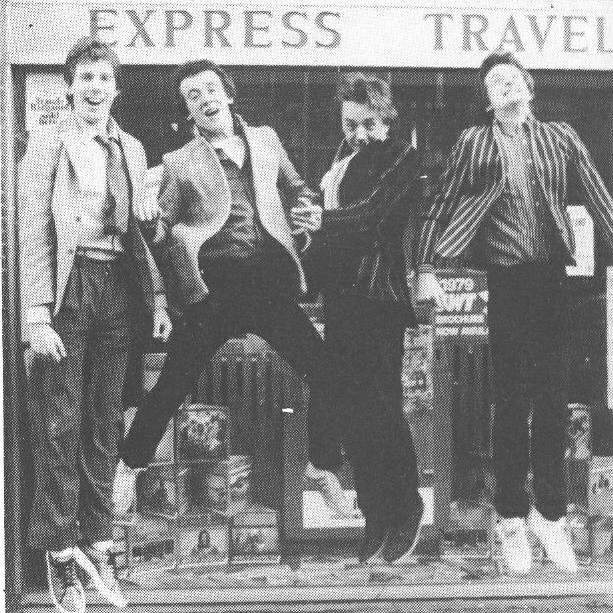 above: The Vipers second lineup in 1979, l-to-r: Foley, Boyle, Moloney & Sweeney
The Vipers returned to active gigging with new drummer Bernie Smirnoff in September 1979 at the Bridge House in Canning Town, East London. The Smirnoff- era band recorded further tracks for Mulligan in early 1980 and as a result were slated to sign with the Roxy Music-owned EG Records later that year. Ultimately departure of key personnel at EG led to the Vipers releasing only one song 'Take Me' on the EG-subsiduary Energy Records (on the 'Room to Move' EP) and the shelving of the planned deal. Although successful gigs at London's Hope and Anchor and Electric Ballroom followed, the Vipers never regained their initial momentum. Brian Foley and George Sweeney decided to leave at Christmas 1980 returning to Dublin, Foley to The Blades and Sweeney to Red Square.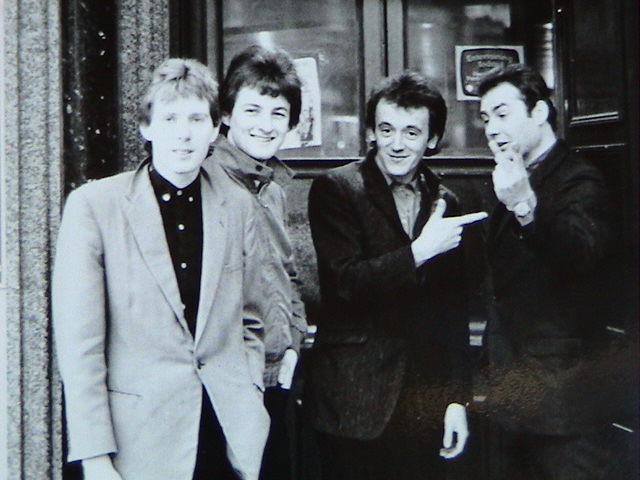 above: The Vipers third lineup with new drummer Bernie Smirnoff, far right (1979)
Paul Boyle later turned to acting. George Sweeney was later in Red Square and The Fat Lady Sings. Brian Foley was later in The Blades. Dave Moloney toured with Johnny Logan's band following his eurovision win and later turned up in The Reasons (1979), The Rhythm Kings (1982), Flash Harrys (1983), G Squad (1985), Fast Boys (1986), Wilf Brothers (80s) and Paul Cleary's Cajun Kings (90s).

George Sweeney's brother Ken was in Instant Party and is now better known as Setanta recording artist Brian.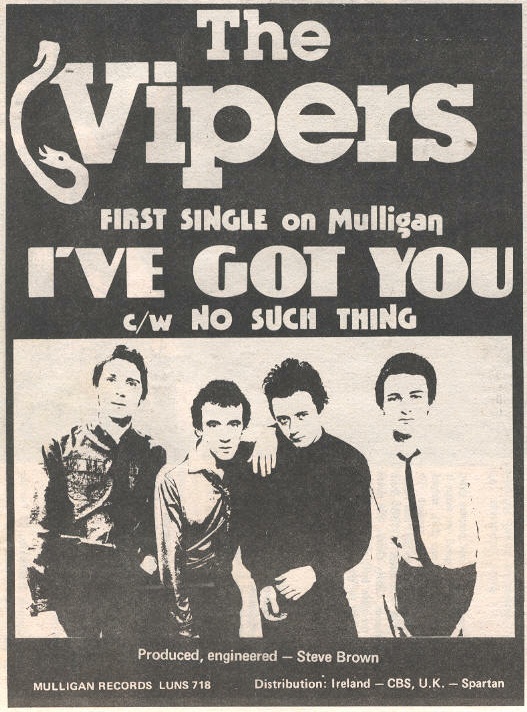 Discography

• I've Got You / No Such Thing
7" - Mulligan Records - LUNS718 - IRL - 1978 - PS


Notes:
Recorded at Lombard Studios in October 1978. Single of the Week in Sounds.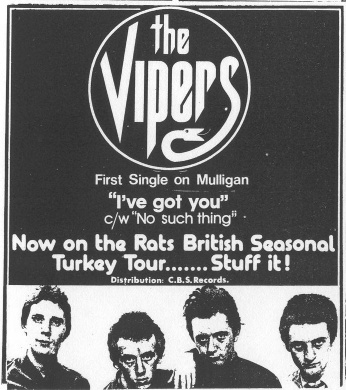 • Peel Session
Recorded 27 February 1979

tracks:
You're On Your Own Kid
Playin' The Game
Too Rough
You're So Strange


• various artists - Room To Move EP
7" - Energy Records - NRG-1 - UK - 1980
See Compilations section for full track listing.



tracks: Take Me


• various artists - Killed By Death #41
LP - bootleg


• various artists - Shake Some Action Vol.3 - UK & Ireland
CD - SSA Records - SSA-003 - Spain - 2001?
See Compilations section for full track listing.



Help!


We need your help to correct and/or complete this entry. If you can provide more information about this band, have scans, photos or any other memorabilia we can use, or spare copies of any releases, then please get in touch.



---

See Also: The Blades, Boomtown Rats, The Fat Lady Sings, Max Quad Band, Red Square, Rocky de Valera and the Gravediggers


---

A-Z Artist Index
Compilations
Record Labels
Media
Help Us!
Contact Us
Resources
Timeline
---