---


A-Z Artist Index
Compilations
Record Labels
Media
Help Us!
Contact Us
Resources
Timeline
---
From: Dublin

Active: 1984-1987

Style:

Lineup:
Binttii - vocals/keyboards/tapes
Tom Rice - guitar
Ian Sissy Box - bass
C.Zappa - drums


l-to-r: Rice, Box, Binttii
Bio:

Princess Tinymeat were formed by Haa Lacka Binttii (AKA Daniel Figgis) a couple of years after leaving the Virgin Prunes.

Besdies the core lineup of Binttii, Rice and Box, other musicians who played with the band included Roger Doyle (Operating Theatre), Dik Evans (Virgin Prunes), Gerry O'Boyle (Gorehounds) and Gerry Leonard (The Spies/Hinterland).

The band achieved some notority with the cover of their first single and it's fair to say that their trash/transvestive aesthetic/image and graphics attracted as much if not more attention as their music. I can still remember the derisive look I received from some record shop muppet the day I bought the Herstory LP. It was the era of Alien Sex Fiend and Specimen and the batcave and all that goth crap. It's possible this added to the pressures which led to the split after only three singles -- more's the pity.

Binttii reverted to his real name for subsequent recordings. See Daniel Figgis for details.

"Princess Tinymeat" was the sizest nickname of 50s Hollywood actor Montgomery Clift (also namechecked by The Clash in "The Right Profile").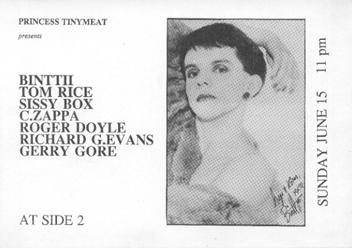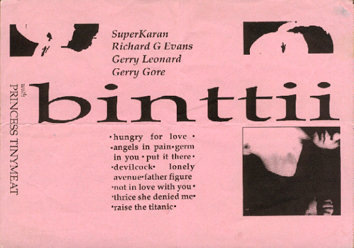 Flyers for shows at Sides, Dame St, Dublin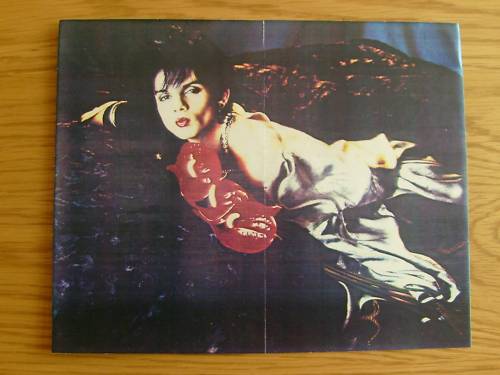 Promo photo circa Sloblands


Discography

• Sloblands / The Fairest Of Them All
12" - Rough Trade Records - RTT 160T - UK - 1984 - PS
Most copies were censored with a removeable white sticker on the front cover.


• A Bun in the Oven / Wigs On The Green
7" - Rough Trade Records - RT163 - UK - 1985 - PS
Entered the UK indie singles chart on 1.2.86 for a 3 week run peaking at #42


• Angels in Pain / Put It There
7" - Rough Trade Records - RT 187 - UK - 1986 - PS
• Devilcock / Put It There / Angels in Pain
12" - Rough Trade Records - RTT 187 - UK - 1986 - PS


• various artists - You Bet We've Got Something Against You
LP - Cathexis/Pleasantly Surprised Records - HATE 1/PS014 - 1986 - inner sleeve
• various artists - Absolute
CD - Parade Amoureuse Records - CONCATH 02 - Germany - 1989
CD - Cathexis/Soleilmoon Records - SOL3CD - USA - 1989
"Absolute" collects tracks from two Cathexis label samplers, the other being "Fight!" (1987)





tracks:
Lucky Bag
Jay Gone Bimbo


• Herstory
LP - Rough Trade Records - ROUGH 108 - UK - 1987 - inner sleeve
LP - Rough Trade/Victor Records - VIL-28101 - Japan - 1987 - insert
CD - Rough Trade/Victor Records - VDP-1280 - Japan - 1987 - obi
complete discography



side one:
Lucky Bag
Angels In Pain (12" version)
Sloblands
A Bun In The Oven
Jay Gone Bimbo

side two:
Put It There (12" version)
The Fairest Of Them All
Wigs On The Green
Devilcock!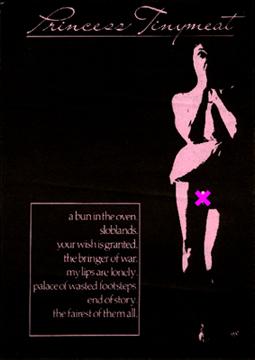 above: Flyer for the circa 1986 Sloblands live show listing several songs that were never released:

A Bun In The Oven
Sloblands
Your Wish Is Granted (unreleased)
The Bringer Of War (unreleased)
My Lips Are Lonely (unreleased)
Palace Of Wasted Footsteps (unreleased)
End of Story (unreleased)
The Fairest Of Them All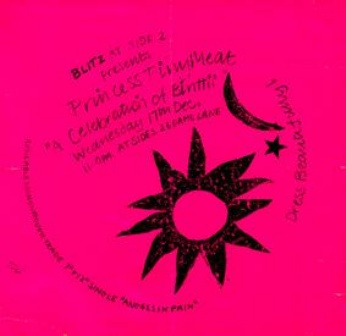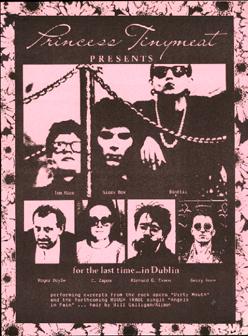 above left: flyer for December '86 show at Sides.
above right: flyer for final Dublin show c1986 with Roger Doyle, Dik Evans and Gerry O'Boyle.
The text reads:
performing excerpts from the rock opera "Dirty _____"
and the forthcoming ROUGH TRADE SINGLE "Angels
In Pain" ...
Help!
We need your help to correct and/or complete this entry. If you can provide more information about this band, have scans, photos or any other memorabilia we can use, or spare copies of any releases, then please get in touch.
---

See Also:


---

A-Z Artist Index
Compilations
Record Labels
Media
Help Us!
Contact Us
Resources
Timeline
---