---


A-Z Artist Index
Compilations
Record Labels
Media
Help Us!
Contact Us
Resources
Timeline
---
From: Dublin?

Active:

Style:

Lineup: (1980-81)
Philip Byrne - vocals & bass
Eamonn Kenny - guitar & vocals
Kevin Reynolds - drums



Bio:

Mod/powerpop band formed by Philip Byrne (ex Revolver) who drifted into a very Police-ish reggae phase towards the latter stages of their career. The single is quite different and was recorded earlier by a studio band originally called The Reasons (see entry) but released under the Teen Commandments name. The 1979 lineup was Philip Byrne (vocals), Steve Stingray (guitar), Kevin Helly (bass) and Dave Moloney (drums).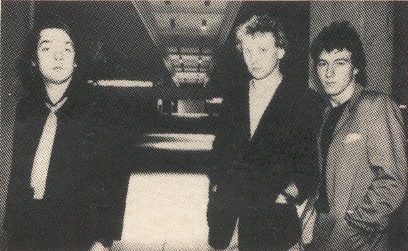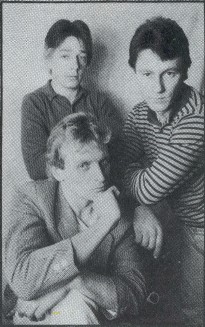 Hot Press mentioned a second single (with a Philip Byrne/Pete Holidai original) slated for release in - November 1981 but it never came out.



Discography

• Private World / Italian Girls
7" - Auric Records - AU79003 - 1981 - PS
Produced by (and A-side composed by) Pete Holidai of the Radiators.
Recorded circa 1979. See The Reasons for more details.


"Teen Commandments have a strong song in the currently unfashionable mode of guitar pop but the surprisingly slack sound that divests the guitars of presence weakens the impact of their debut 45 and won't convince others internationally to revert to 1978"--review in Hot Press, Oct 1981



• various artists - Just For Kicks
LP - Kick Records - KK-1 - IRL - 1979
See Compilations section for full track listing.


tracks: Something's Better Than Nothing [features The Edge of U2 on guitar]


• various artists - Vinyl Verdict
LP - Scoff Records - DTLP006 - IRL - 1981
See Compilations section for full track listing.


tracks: Baby Left Me
Help!
We need your help to correct and/or complete this entry. If you can provide more information about this band, have scans, photos or any other memorabilia we can use, or spare copies of any releases, then please get in touch.
---

See Also: Reasons, Revolver


---

A-Z Artist Index
Compilations
Record Labels
Media
Help Us!
Contact Us
Resources
Timeline
---