---


A-Z Artist Index
Compilations
Record Labels
Media
Help Us!
Contact Us
Resources
Timeline
---
From: IRL

Active: 197? - July 1979

Style: Punk/Powerpop

Lineup:
Philip Barretta - AKA Philip Byrne - vocals
Billy Luger - AKA Billy Morley - guitar
Colm O'Kelly - guitar - 1978-79
Kevin Kolt - AKA Kevin Helly - bass
Johnny Symbol - AKA Johnny Sullivan - drums


back, l-to-r: Johnny Sullivan, Colm O'Kelly, Phillip Byrne
front, l-to-r: Billy Morley, Kevin Helly

Bio:

Revolver grew out of a number of earlier bands, sharing a pre-history with the Radiators. Guitarist Billy Luger AKA Billy Doll had been in a glam era proto punk band called Bent Fairy & The Punks with Noel Storey (bass) and Johnny McAdan (drums). This was circa 1972. He was later in Greta Garbage & The Trash Cans with Steve Rapid and Pete Holidai of The Radiators. As the name suggests they flirted with the bisexual/androgynous image current at the time. He formed the first lineup of Revolver with two members of Chevrolet, Kevin Helly (rhythm guitar) and Johnny (drums), and an unknown bass player and lead singer, both of whom were dumped after one gig. Meanwhile Philip Byrne had also been in a band called Chevrolet, this one an all covers outfit. He joined Revolver as singer in early 1977. Kevin Helly moved from rhythm to bass guitar, thereby completing the most stable lineup of the band.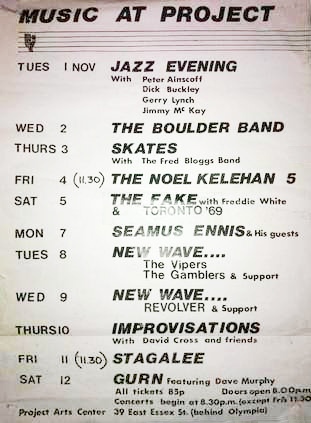 At The Project in November 1977

Revolver were a prominent band on the Dublin scene in 1977-78. They adopted a Flamin' Groovies style waistcoats and suits dress code. Initially their set was all covers (a selection of Kinks, Dolls, Beatles, Pistols and Clash tracks were played at Belfield in August 1977 according to Heat #2) but they soon began to work on originals. Pete Holidai produced their first demo in 1977, recorded "in a shopping centre in Crumlin." Tracks included "Bombscare Thoroughfare", "Resign" and "Man On Strife". Heat #3 (1977) also mentions a single planned for release on Chiswick ("You Won't Know What Hit You" / "Resign") but this never materialised.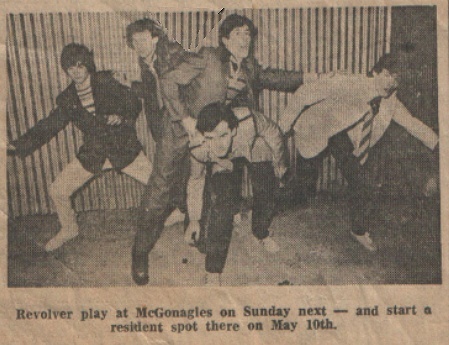 A single finally came out on Rockburgh which is now a minor collectable. Another single for Rockburgh ("You Won't Know What Hit You" / "Stay Young, Stay Free") was recorded in 1978 (produced by Rockburgh boss Sandy Robertson?) but it was never released. Heat #6 (1978) mentions demos being recorded in Lombard Studios in Dublin for a proposed LP... and a 2-song demo ("Cloak And Dagger" and "One More Chance") was recorded at Lombard in March 1979. So there are undoubtedly many unreleased recordings, deserving of a discography CD.

Billy Morley left to join The Radiators for 6 months (September 1978 - March 1979 approx) though I believe he continued to play with Revolver on occasion. He also played with The Defenders. Colm O'Kelly joined Revolver on second guitar in 1978.

When Revolver first became serious about what they were doing, they set themselves a target (6 months?) to get signed. This was eventually lengthened, and the band did eventually get that single out on Rockburgh, in the meantime becoming one of the top Dublin bands, but they never made the real breakthrough they were looking for (a la Boomtown Rats), and so they broke up. They played the Dandelion Market on Saturday 16th June 1979 with The Blades and their final gig was at McGonagles in July 1979.

Philip Byrne and Kevin Helly recorded with Pete Holidai as The Reasons, and Byrne later led the Teen Commandments. Colm O'Kelly was later in Assembley and The Gorehounds with his brother Brian.





Discography

• Silently Screaming / On The Run
7" - Rockburgh Records - ROCS203 - UK - 30 June 1978 - PS


Recording History

• 1977 demo
Produced by Pete Holidai
Recorded "in a shopping centre in Crumlin"
tracks: Bombscare Thoroughfare / Resign / Man On Strife / a.o.


• Aborted Chiswick single 1977
tracks: You Won't Know What Hit You / Resign


• Second Rockburgh single 1978(?)
Produced by Sandy Robertson?
tracks: You Won't Know What Hit You / Stay Young, Stay Free


• Album sessions at Lombard Studios 1978


• Lombard Studios, March 1979
Two songs recorded over two long nights with Paul Thomas engineering
tracks: Cloak And Dagger / One More Chance


Help!


We need your help to correct and/or complete this entry. If you can provide more information about this band, have scans, photos or any other memorabilia we can use, or spare copies of any releases, then please get in touch.



---

See Also: Assembley, The Defenders, The Gorehounds, Radiators The Reasons, Teen Commandments,


---

A-Z Artist Index
Compilations
Record Labels
Media
Help Us!
Contact Us
Resources
Timeline
---