---


A-Z Artist Index
Compilations
Record Labels
Media
Help Us!
Contact Us
Resources
Timeline
---
From: Dublin

Active: 1970-73 approx

1st Lineup:
Joe O'Keefe AKA Jodi O'Keefe - vocals/bass
Andy Dillon - lead guitar
John Leahy - rhythm guitar
Larry Jordan - drums, replaced by Blue O'Brien


l-to-r: Larry Jordan, Joe O'Keefe, John Leahy, Andy Dillon
[photo courtesty of Andy Dillon]


2nd Lineup:
Joe O'Keefe AKA Jodi O'Keefe - vocals/guitar
Bernard Tormay AKA Bernie Torme - guitar
Noel Cullen - bass
Carl Geraghty - sax/flute
Don Harris - drums




Bio:

The Urge are best known as one of the first bands of ace guitarist Bernard Tormey AKA Bernie Torme, though he did not play on their lone single.

The original band was a quartet until rhythm guitarist John Leahy left and they reduced to a trio: with Jodi O'Keefe on bass and lead vocals, Larry Jordan on drums and Andy Dillon on lead guitar. They were managed by Jodi's brother Shay O'Keefe.

The Urge's sole single was recorded by this trio in December 1970 approx. It was recorded at Trend Studios in Dublin with Jackie Hayden producing. It is hard progressive rock of the highest calibre. Both tracks are equally strong and are credited to Keif/Dillon/Jordan. This single is extremely difficult to find in either it's (sleeveless) Irish or German picture sleeve edition. As far as we know, there is no UK pressing. Unfortunately there are no other recordings.

In early 1971, the band were invited to perform the single on Like Now, RTE's hugely popular pop music show, broadcast live on Saturday nights. When they refused to mime to the record and RTE refused to allow them to play live, they walked off the show, causing a sensation at the time and making the front page of the Evening Press.

Larry Jordan was replaced by Blue O'Brien (ex Crossroads) who then left (returning to a revived Crossroads?) and was replaced by an unnamed drummer who lasted a few months. Then Andy Dillon left in early 1972, emigrating to Australia. New recruits Bernard Tormey (guitar) and Don Harris (drums) joined from Wormwood.

The band expanded to a five piece adding Noel Cullen (ex Honey Sweet) on bass (Jodi moving to second guitar) and sax/flute player Carl Geraghty (ex Victors), brother of Tony Geraghty (of Adolf J.Rag, The Miami). This lineup was occasionally augmented to include a full horn section on big Saturday night gigs. This version of The Urge was basically a blues rock outfit who did originals and covers of Deep Purple, Ten Years After, and Cream but also Chicago, Blood Sweat & Tears and Stax style stuff when playing with the horn section.

Carl Geraghty left in 1972 approx and was later in Bananas. He wasn't replaced and the band continued as a quartet. Don Harris left in 1972 or early 1973, turning up in Peggy's Leg. His replacement was the returned Blue O'Brien from Crossroads but then Bernie Torme left in 1973 and the band seemed to fizzle out. Some members were involved in a short-lived outfit called Jack about whom I have no more details.



Discography:

• What's Wrong? What's Right? / Feelin' Free
7" - Polydor Records - 2078 001 - 1971 - no PS?
7" - Polydor Records - 2121 031 - Germany 1971 - PS
Recorded at Trend Studios in Dublin. Produced by Jackie Hayden.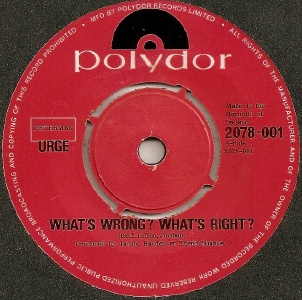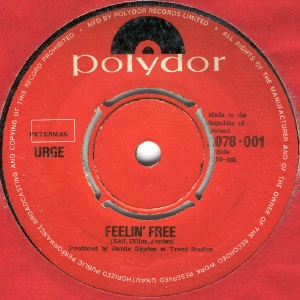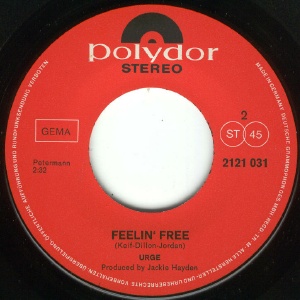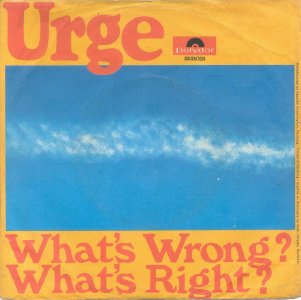 See also: Adolf J.Rag, Crossroads, Honey Sweet, Peggy's Leg, Bernie Torme, Wormwood




Help!: We need your help to complete this entry. If you can tell us more about this band then please do! We welcome any corrections, missing details, connections to other bands, where are they now, etc. We also need photos, scans, copies of releases or live or demo recordings, and any other memorabilia gathering dust in the attic. If you can help, then please get in touch.


Last update: 7 April 2010.

thanks to TP McLoughlin for the label scan

---

A-Z Artist Index
Compilations
Record Labels
Media
Help Us!
Contact Us
Resources
Timeline
---