---


A-Z Artist Index
Compilations
Record Labels
Media
Help Us
Contact Us
Resources
Timeline
---
Live for Ireland
2xLP - MCA Records - MCGD 6027 - IRL 1988 - 28 tracks
LP - MCA Records - MCG 6027 - UK 1988 - 12 tracks
CD - MCA Records - MCD06027 - Europe 1988 - 16 tracks
CD - Warner-Pioneer Records - 32XD-914 - Japan - 1987 - 16 tracks


Self Aid was a televised concert staged in Dublin on May 17, 1986 intended to highlight chronic unemployment in Ireland at the time and to launch and help finance the Self Aid Trust. Not everyone agreed that a live concert was the best method to tackle unemployment and some musicians declined an invitation to perform. Once problem was the obvious comparison with Live Aid, which clearly inspired Self Aid. Live Aid was a charity event whereas unemployment is a political problem which cannot be handled by charity. So the message was muddled and sometimes good intentions are not enough. On a personal note, I emigrated from Ireland for 4 months later.

MCA issued a live album of the event in 1988. The original Irish double-LP edition contains 28 tracks. The European single LP edition contains 12 resequencedtracks [1,7,8,12,14,15,16,20,21,26,27,28]. The European & Japanese CD release contains 16 tracks, all 12 from the single LP edition plus [2,18,24,25]

A single was issued by WEA to coincide with the concert to help promote it. There is also a promo 12inch.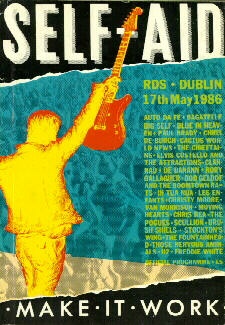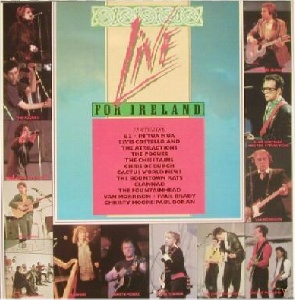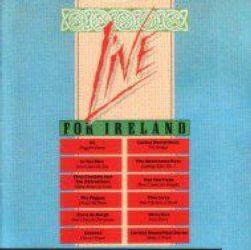 side one:
1 Thin Lizzy - Don't Believe A Word
2 Moving Hearts - The Lark
3 Those Nervous Animals - My Friend John
4 Les Enfants - A Sense Of Freedom
5 De Danann - The Arrival Of The Queen Of Sheba In Galway
6 Brush Shiels - Old Pal
7 Chris De Burgh - Don't Pay The Ferryman

side two:
8 Clannad - Harry's Game
9 Bagatelle - Rock'n'Roll Fantasy
10 Freddie White - Keep On Climbin'
11 The Chieftains - Boil The Breakfast Early
12 Chris Rea [UK] - Steel River
13 Blue in Heaven - Tell Me
14 U2 - Maggie's Farm

side three:
15 The Pogues - Dirty Old Town
16 In Tua Nua - Seven Into The Sea
17 Rory Gallagher - Follow Me
18 Auto Da Fe - Exiles
19 Scullion - Carol
20 Elvis Costello And The Attractions [UK] - Leave My Kitten Alone
21 Van Morrison - Here Comes The Knight

side four:
22 Stocktons Wing - Skidoo
23 Big Self - Independence
24 Paul Brady - The Island
25 The Fountainhead - Feel It Now
26 Cactus World News - The Bridge
27 The Boomtown Rats - Looking After No.1
28 Christy Moore/Paul Doran - Make It Work



---

A-Z Artist Index
Compilations
Record Labels
Media
Help Us
Contact Us
Resources
Timeline
---