---


A-Z Artist Index
Compilations
Record Labels
Media
Help Us!
Contact Us
Resources
Timeline
---
From: Clondalkin, Dublin

Active:

Style: Punk / Pubrock

Lineup:
John McMeniman -
Philip Fay - guitar
Pat Pidgeon - bass
Andy Loughran - drums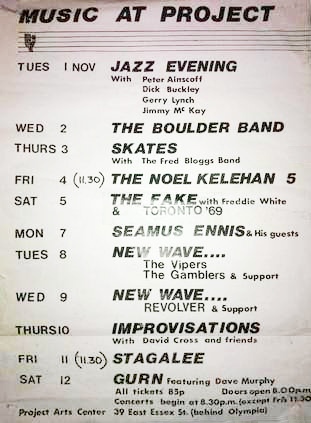 At The Project with The Vipers, Nov 1977




Bio:

The Gamblers were bottom of the bill at the Belfield Punk Festival in the summer of 1977, supporting Revolver, The Radiators from Space and The Undertones. They also played the Projects Arts Centre in May 1978 with U2 as opening act. Reputedly very good in a Feelgoods/ Hot Rods/ Gorillas vein. Guitarist Phil Fay had a style reminiscent of Wilko Johnson.

Was John McMeniman AKA Johnny Ringo?

The band also played as The Sole Survivors and The Subterraneans (not the Mother band). Philip Fay was also in The Vultures and Zen Alligators. Pat Pidgeon and Andy Loughran were later in Resisdance.





Discography


Help!


We need your help to correct and/or complete this entry. If you can provide more information about this band, have scans, photos or any other memorabilia we can use, or spare copies of any releases, then please get in touch.




---

See Also: Resisdance, Soul Survivors, The Subterraneans, The Vultures Zen Alligators


---

A-Z Artist Index
Compilations
Record Labels
Media
Help Us!
Contact Us
Resources
Timeline
---