---


A-Z Artist Index
Compilations
Record Labels
Media
Help Us!
Contact Us
Resources
Timeline
---
From: Dublin

Active: 1964-65

Lineup:
Ronnie Stewart - vocals
Brendan Bonass - guitar
Paul Brady - guitar & vocals
Peter Williams - bass
Dave Pennefeather - drums
a.o.


Paul Brady 3rd left. Is that Brendan Bonass in the hat?
The Kult
From: Dublin

Active: 1965

Lineup:
Brendan Bonass - guitar
Paul Brady - guitar & vocals
Jackie McAuley - ?
Peter Williams - bass
Dave Pennefeather - drums
Bio:

Before The Kult, there was The Inmates, a Dublin beat band active in the mid-1960s. The lineup included Ronnie Stewart (vocals), Brendan Bonass (guitar) and Dave Pennefeather (drums). The Inmates themselves were a spin off of The Dakotas (Brendan Bonass, Ronnie Stewart, Robert Kemp (rhythm guitar), Miles Davenport (piano), Peter Nelson (drums)). Inmates bassist Peter Williams (also in the Semitones with Dave Pennefeather) was never mentioned by name because he worked in Bank of Ireland at the time and Rock & Roll associations were frowned upon seriously enough for it to have potentially caused him problems (how times have changed!). This bass playing mystery man referred to only as Pete may have given rise to the erroneous link to the UK band The Kult (see below). Pete Williams was the brother of Paul Williams (The Greenbeats) and Rodney Williams (Rootzgroop).

A teenage Paul Brady, then a student at UCD recently arrived from Strabane, became a big fan of The Inmates after seeing them perform at an R&B Spectacular in October 1964. He approached them for an audition and soon joined on vocals and guitar, making The Inmates his first group.

This lineup recorded a single in early 1965 on the obscure Sound City label. Produced by John Paul Jones at Eamonn Andrews Studios, the A-side was a Bob Dylan cover "She Belongs To Me". As a copy of the single has yet to surface, I'm unsure of the B-side. Ronnie Stewart sang the lead vocal, not Paul Brady though Brady may have been present during the session. He is credited by some with introducing the song to the band. John Paul Jones' contribution to the recording was playing a record rack with a screwdriver.

The Sound City label was almost certainly named after the Sound City club in Dublin, owned by Tony Boland. Boland established his own Tempo Records label in March '65, so this Sound City label must have just predated it and this begs the question of whether the Sound City single was ever realised.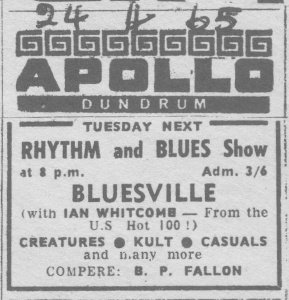 The Kult gigging in April 1965.
[from the insert with Paul Brady's solo debut LP]




Apart from doubts over it's existence, it's also unclear whether it was to be released under the name The Inmates or (more likely) their new moniker The Kult, which the band was using by April 1965. This is borne out by the Apollo advert pictured above which is dated 24 April 1965. Paul Brady left the band around this time.

Jackie McAuley left Them in April 1965 and recalls spending most of the rest of that year in Dublin with a band called The Kult. The lineup he recalls was Bonass, Brady, Pennefeather and McAuley himself on guitar, but it seems more likely that Paul Brady had already left for Rootzgroop. He's also seems to have forgotten Pete Williams (either that or McAuley played bass with the band). With or without McAuley, The Kult split at the end of 1965.

A new Inmates appears to have been active in 1966-67. This Inmates Mark II contained mostly new members, in fact the only original Inmate appears to have been Pete Williams. I cannot be sure about this as I do not have the full lineup details. At some point this band became confused with the UK group The Kult who recorded a much sought after late psych single "No Home Today" / "Mister Number One" for CBS Records in 1969. This link has appeared in print in various sources but is almost certainly incorrect, the confusion probably arising from the reluctance of Pete Williams to use his surname (the UK Kult were led by one Pete O'Driscoll) and rumours of the band moving to London, a common enough claim back then. If anyone has any more details about this 1966-67 period, please get in touch.

Paul Brady went on to Rootzgroop (1965-66, with Pete Williams brother Rodney) and then Rockhouse (1966) but found fame with The Johnstons (1967-). Brendan Bonass was later in Rockhouse and The Uptown Band. Dave Pennefeather joined the Earl Gill Showband and was later in the Real McCoy. Jackie McAuley joined the Belfast Gypsies in December '65 and was later in Trader Horn and fronted his own band.





Discography:

• She Belongs To Me / ???
7" - Sound City Records - ??? - IRL - 1965 - no PS

further details unknown; this may never have gone beyond the acetate stage.
It seems more likely this single would have been released on Tempo Records.
Please get in touch if you have a copy of this disc.





See also: Belfast Gypsies, The Johnstons, Real McCoy, Rockhouse, Rootzgroop, The Uptown Band




Help!: We need your help to complete this entry. If you can tell us more about this band then please do! We welcome any corrections, missing details, connections to other bands, where are they now, etc. We also need photos, scans, copies of releases or live or demo recordings, and any other memorabilia gathering dust in the attic. If you can help, then please get in touch.


thanks to Neil Moxham for his help
---

A-Z Artist Index
Compilations
Record Labels
Media
Help Us!
Contact Us
Resources
Timeline
---