Donal Lunny - bouzouki



Deke O'Brien in 1977 [photo: Sandy Harsch]
Bio:

Deke O'Brien has a long history dating back most notably to Bluesville (1964-65), the first Irish band to enter the US charts, and Bees Make Honey (1971-74), whose "Music Every Night" LP (EMI, 1973) was an early pubrock landmark. During the second half of the decade he fronted Nightbus, played with Stepaside, and co-founded Scoff Records.

Deke formed the first version of Nightbus in March 1975. They toured round the country, appeared on TV a number of times, and released a couple of singles on Mulligan Records. The first A-side "Face Down in the Meadow" (1975) is pure country rock complete with pedal steel guitar, reminiscent of The Eagles. The B-side is more of the same with country piano. The second single, from 1976, is in a similar vein. Those looking for pre-punk Dr Feelgood style pub rock will be disappointed.

Nightbus began working on an album at Rockfield Studios in Wales in the autumn of 1975 but things turned sour and the band split in early 1976. The Rockfield tapes were reworked, vocals and guitar parts erased (including all Lucienne O'Kelly vocals) and new parts recorded. The "Nightbus" LP that finally came out in mid 1976 was credited to Deke O'Brien as a solo release. The lineup listed above is taken from the credits for the LP. It includes members of the original Nightbus as well as sessions musicians and guests including Mick Molloy (Alpine Seven, Bluesville, Bees Make Honey).

The "Nightbus" LP is even more laid back than the preceeding singles. It was greeted with some disappointment in the press at the time. Nowadays it's usually described as pub rock, but Dr.Feelgood it aint! It's very mellow, with a very laid back West Coast country rock feel, reminiscent of the later, unreleased (at the time) recordings of Bees Make Honey.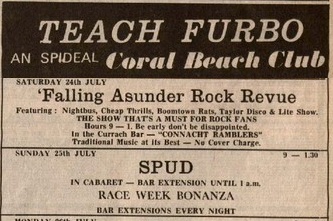 The Falling Asunder Rock Review reachs Teach Furbo, Spiddel, Galway on 24 July 1976.

Deke assembled a new Nightbus lineup for the Falling Asunder Rock Review tour that took place over two weeks of July 1976. The lineup included Greg Boland (Supply Demand & Curve, Stagalee, Scullion) and Jimmy Faulkner (Jangle Dangle, Jimi Slevin Band, Pumpkinhead, The Business) on guitars, Eamonn Doyle (Lookalikes, C'est Clave) on bass, Dave McHale (Stagalee) on keyboards and Sean O'Reilly on drums. The Falling Asunder Rock Review was an important pre-punk tour of Ireland which took place over two weeks in July 1976, culminating in the National Stadium in Dublin. The co-headliners were Nightbus, the Boomtown Rats and Cheap Thrills.

Deke joined Stepaside in 1977. Stepaside had been active since 1972 but had gone off the boil. Deke joining was seen as revitalising the band. Several members of Stepaside (Brendan Bonass, Bobby Kelly, and Robbie Brennan) had played on the Nightbus LP. Deke stayed with Stepaside for over a year (1977-78), appearing on their first single, before leaving at the end of 1978.

Deke later fronted Sneeker (1980) and The Sharks (1981-82).

Deke O' Brien did a lot of production work during the late 1970s and early 1980s for several Irish labels including Mulligan Records and Scoff Records, which he co-founded in 1978-79 with Johnny Lappin. Scoff went on to become the premier Irish indie label of the 1980s.

All in all a very important figure in Irish rock history who deserves a better bio.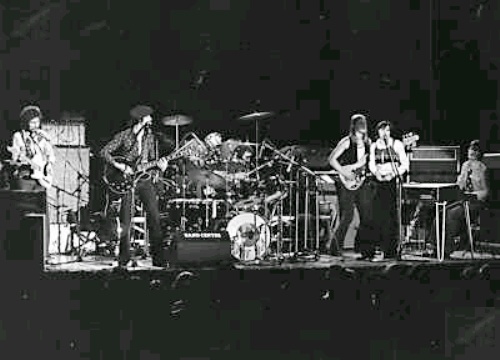 According to RTE, this is Nightbus live in 1976, but is it?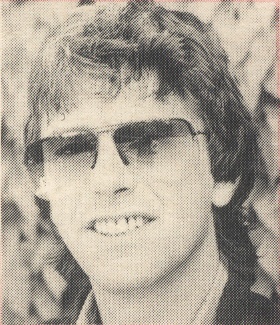 Discography

• Nightbus - Face Down in the Meadow / Sweet Tastin' Moonshine
7" - Mulligan Records - LUNS 1 - late 1975 or early 1976 - no PS
Different version of A-side, Non-LP B-side.


&


• Nightbus - Sing Harmony / I'm Comin' Home
7" - Mulligan Records - LUNS 3 - 1976 - no PS
Both sides on the LP.

&


• Nightbus
LP - Mulligan Records - LUN003 - IRL - July 1976



side one:
Deep Feeling
Out On Main Street
I've Been Losing
I Get Burned
The City's Allright

side two:
Face Down in the Meadow (different to 45 mix)
Heartbreaker
On Your Way Home
Sing Harmony
I'm Coming Home


• various artists - Vinyl Verdict
LP - Scoff Records - DTLP006 - IRL - 1981
See Compilations section for full track listing.




tracks: In Too Deep
Help!
We need your help to correct and/or complete this entry. If you can provide more information about this band, have scans, photos or any other memorabilia we can use, or spare copies of any releases, then please get in touch.
---

See Also: Bees Make Honey, Bluesville, The Sharks, Sneeker, Stepaside


---