---


A-Z Artist Index
Compilations
Record Labels
Media
Help Us!
Contact Us
Resources
Timeline
---
From: Dublin

Active: 1978 - January 1980

Style:

Lineup:
Anthony Kennedy (AKA AK) - lead vocals, harmonica, concert flute(!)
Dick Doyle - guitar, vocals
Frankie Morgan - keyboards, vocals
Pat Courtney - bass, vocals
Albert (Harpo) Cowen - drums


Sacre Bleu, l-to-r: Frankie Morgan, AK, Colm Browne, Pat Courtney, Dick Doyle.

Bio:

Formed early 1978 in Dublin though Anthony Kennedy was from Clonmel and Dick Doyle from Wexford. The band changed drummer several times. Albert Cowen was replaced by Kevin Reynolds who in turn made way for Colm Browne (up to May 1979 approx) and then Pat Waller. They were managed by Dave Kavanagh who later had great success with Clannad and now runs a recording company. Tour manager was Lorcan Ennis who has also remained in the music business.

Sacre Bleu toured Ireland in 1978 or 1979 with the Fabulous Fabrics, one of the earliest new wave tours of Ireland. They also had a residency for the month of May 1978 in the Engelen Kolingen Club in central Stockholm. This came about through the agency of Paul McGuinness, then manager of U2, who had previously managed trad folk rock band Spud, whose records had sold very well in Sweden (and who were signed to the Swedish Sonet label for their last LP). Sacre Bleu worked six nights a week during the whole month, playing multiple sets each night. Smiley Bolger was DJ at the club at the same time. Frankie Morgan played with The Defenders at the Heat Magazine benefit at the National Stadium in July 1979.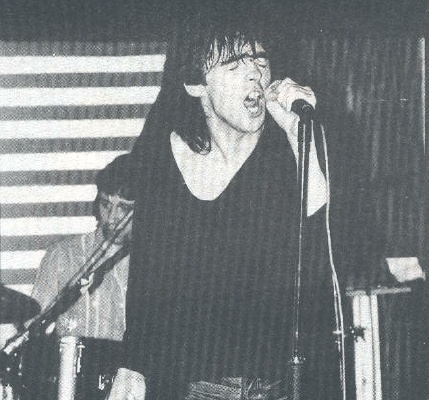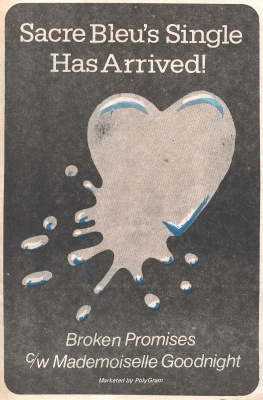 The band released two singles in 1979, both housed in sleeves designed by Jim Fitzpatrick. They appeared on Our Times (RTE) on 26 March 1979 promoting the first release. Though both singles were released on Polydor, the band was never officially signed to the label. Polydor paid for the studio session that produced the four cuts on the two singles. These sold well locally and the band had a successful gigging career in the established gigs and college circuit with a good local following, Polydor never took up the option to sign the band.

Sacre Bleu played the famous Dandelion Market on Sunday 18 November 1979 but split soon after in January 1980. Pat Courtney was later in Xerxes. Al Cowen went on to run Sonic Studios on Georges St. in Dublin. Anthony Kennedy (AK) became a teacher. He also fronted the Original Sins (mid-80s) and Three Blind Mice (late-80s/early 90s). Frankie Morgan emigrated to the USA.

I still need much more info about this band please.

l-to-r: Colm Browne, Frankie Morgan, AK.




Disambiguation: note the "In The Mood" single (1980) is by a different band.





Discography

• Broken Promises / Mademoiselle Goodnight
7" - Polydor Records - 2078 104 - IRL - June 1979 - PS
Announced for April 1979, but due for release in June 1979 according to Dave Fanning's column in In Dublin.
Spent 2 weeks at #30 in the Irish charts in July 1979; briefly re-entered the charts in August for 1 week at #27
Produced by Dave Moore.


• Move It / Just Another Saturday Night
7" - Polydor Records - 2078 107 - IRL - Oct 1979 - PS
A-side produced by Donal Lunny, B-side by Dave Moore.
Previously listed here as a July release but mentioned in In Dublin in September '79 as imminent.


• various artists - Just For Kicks
LP - Kick Records - KK-1 - IRL - December 1979
See Compilations section for full track listing.



tracks: Mademoiselle Goodnight (different mix)



• various artists - Shake Some Action Vol.8 - UK & Ireland
CD - SSA Records - SSA-008 - Spain - 2004?
See Compilations section for full track listing.



---
Help!
We need your help to correct and/or complete this entry. If you can provide more information about this band, have scans, photos or any other memorabilia we can use, or spare copies of any releases, then please get in touch.
---

See Also: The Defenders, Xerxes


---

A-Z Artist Index
Compilations
Record Labels
Media
Help Us!
Contact Us
Resources
Timeline
---