---


A-Z Artist Index
Compilations
Record Labels
Media
Help Us!
Contact Us
Resources
Timeline
---




From: Dublin

Active: 1985-1993

Style: Rock/Punk/Garage

Lineup (1985-91):
Frank Rynne - vocals & guitar
Colin Byrne - guitar
Daragh McCarthy - bass
John Bonnie - drums (1985)
Ciaran O'Brien - drums (1986-88)
Jeff Nilson - drums (1989-90)
Nigel Preston - drums (1990-91)



Lineup (1991-93):
Frank Rynne - vocals & guitar
Alex Hooper – guitar
Anthony O'Neill – bass
Tom Hooper – drums
Bio:

The Baby Snakes were very much a straight Roll'n'Roll band in Stones/New York Dolls mould, lacking sometimes in the song-writing department. Formed by Frank Rynne (from Arklow) and John Bonnie in 1985, both ex Those Handsome Devils. They opened their appearance at the Mega-Bash at the Ivy Rooms Dublin on 29 August 1985 with a cover of "Wig Wam Bam". They played a residency at the Underground in December 1985.

Bonnie left by the end of that year. His replacement was Ciaran O'Brien who stormed out of the studio during the recording of the "Sweet Hunger" LP because co-producer Paul Thomas was driving him nuts. This is how Brian Downey (of Thin Lizzy fame) came to play on that LP. O'Brien continued as the band's regular drummer after the recording.

Frank Rynne earned a bad reputation for slagging off certain other bands in the music press in Ireland. This combined with manager Joe Ambrose's talent for hype rubbed many people the wrong way. This period in the music scene in Dublin was marked by scores of mediocre rock bands vying to be the next U2 and a lot of clueless A&R people competing to sign them. The Baby Snakes released the "This City Sucks" live cassette and left Dublin for London in 1988, where they remained until their break up 1993.

Joe Ambrose's novel Serious Time (Pulp Books) is a fictionalised account of the bands days living in Brixton. The band in the book is called The Subliminal Kids, a reference to the first Baby Snakes EP. New Zealander Jeff Nilson became the bands drummer circa 1989 and plays on the 'Rebel Radio' album released in 1990. His last gig with the band was at the Maquee club in London where he was introduced to Nigel Preston (ex The Cult) who took his place.

This incarnation of the Baby Snakes played many gigs in North London, including one at the Mean fiddler with Jeffrey Lee Pierce (The Gun Club) playing harmonica. Pierce was reputedly set to produce the group's next record in 1991 but Nigel Preston landed in prison (for armed robbery) in 1990 and these plans fell through. All in all, about 20 studio tracks and 12 live tracks were recorded during this period, and these remain unreleased. An EP of Johnny Cash covers, the 'Four Foot Tapping Greats EP', emerged in 1992. On his release from prison, Preston became The Gun Club's drummer while remaining a member of the Baby Snakes. He died of a drug overdose on 1st April 1992. The band's last recording session was for BBC Radio in 1993.

Santides was the bands own label. Unreleased songs include "Herbert Huncke, US Junkie" and a cover of Lou Reed's "My Friend George".

Frank Rynne currently manages the affairs of the Musicians of Joujouka and has produced several of their CDs. For more details check out www.joujouka.net. Joe Ambrose has written several books - see www.joeambrose.net for details.

Lineup: Frank Rynne (vocals & guitar), Colin Byrne (guitar), Daragh McCarthy (bass), John Bonnie (drums).
Ciaran O'Brien (drums) 1986-88 approx.
Nigel Preston (drums) 1988-91 approx.
Niall O'Sullivan (guitar) original lineup, co-wrote many of the early songs with Rynne, but left in July 1987 to concentrate on painting. He played on the last recording session in 1993.

Not to be confused with the mid-80s Swedish band.
Gallery: Live at the Baggot Inn 17 July 1986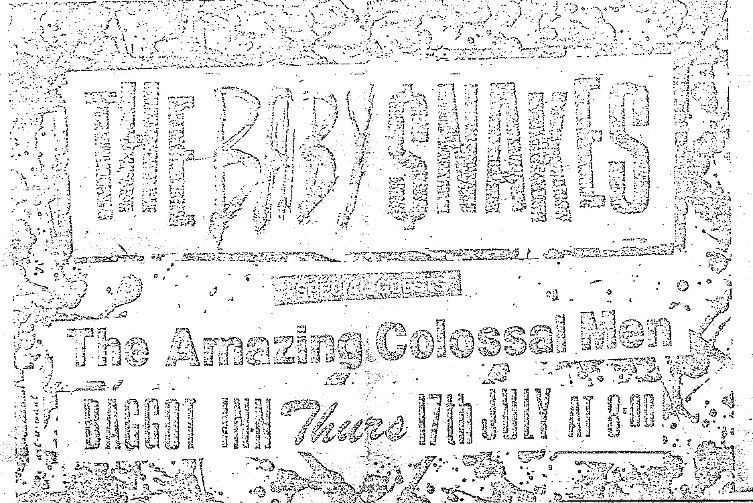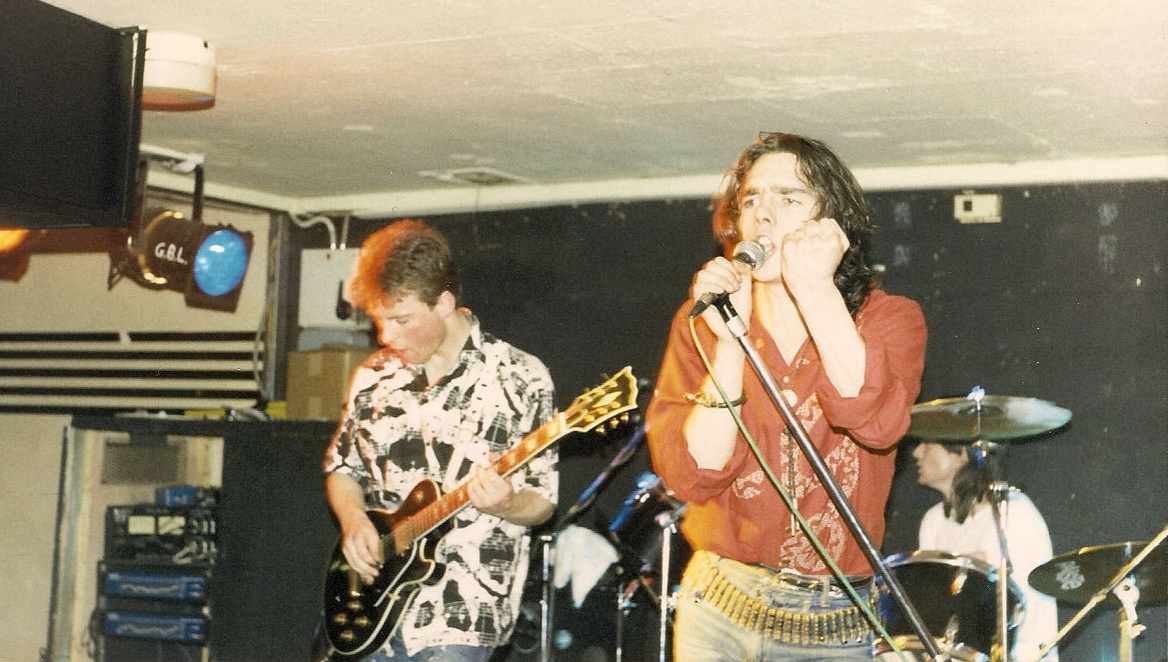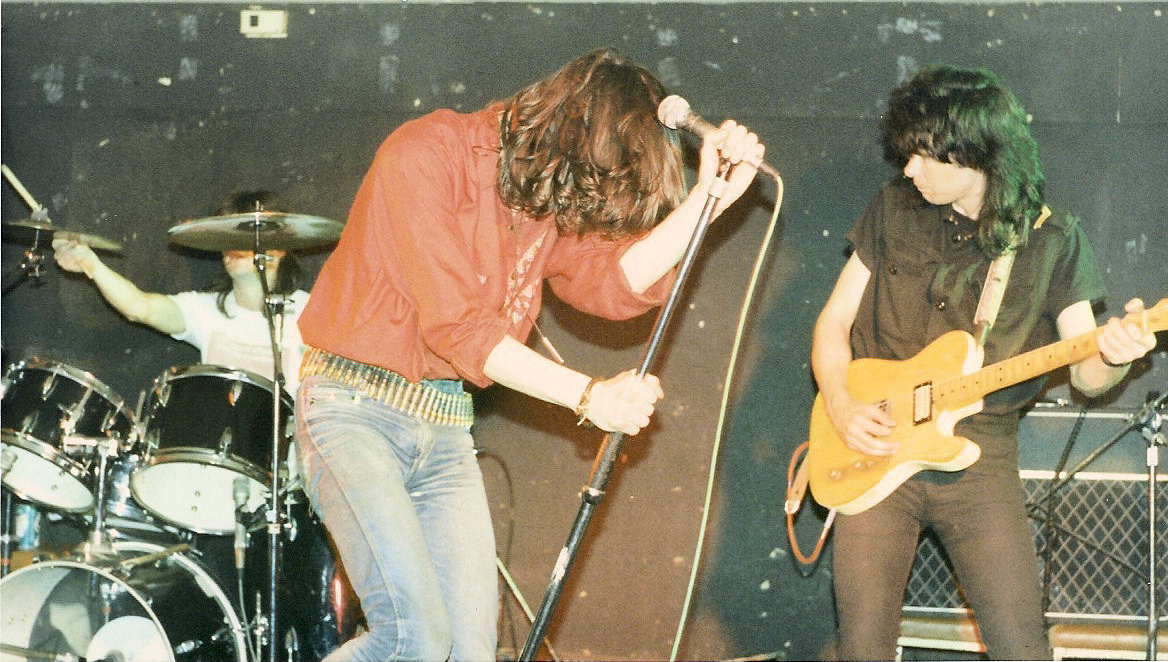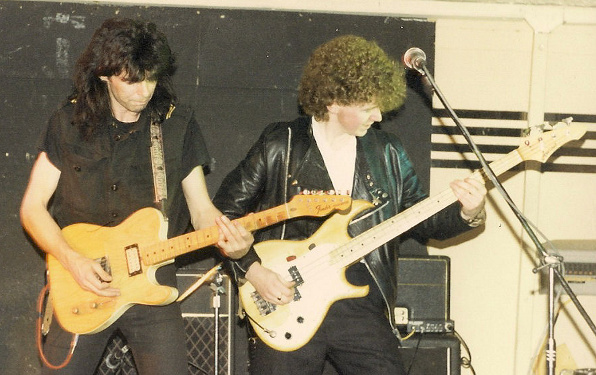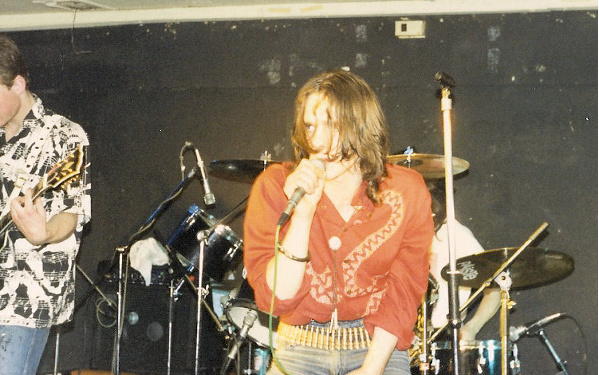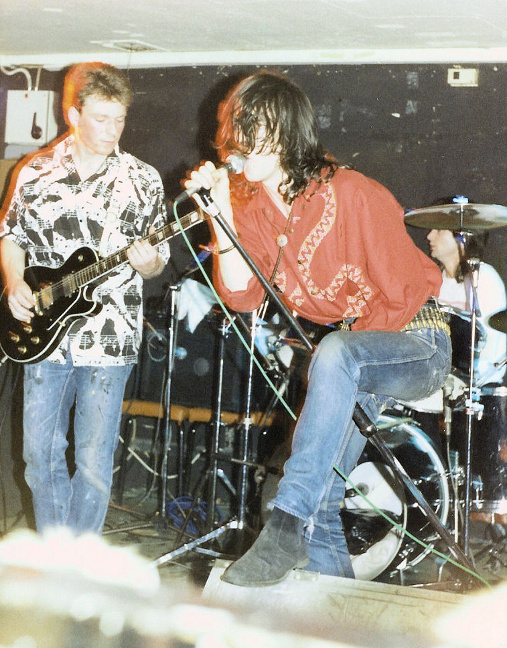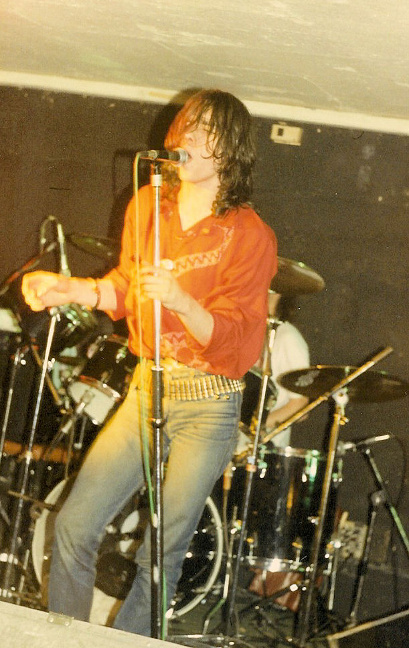 Live at the Baggot Inn, Dublin on 17 July 1986, with guest guitarist AK Kennedy (ex Sacre Bleu).
[photos courtesy Mick Gillman]


Discography

• various artists - Weird Weird World of Guru Weirdbrain
LP - Hotwire Records - HWLP8505 - IRL - 1985
See Compilations section for full track listing.



tracks: Johnny


• Songs for Subliminal Kids EP
7" - Santides Records - SAN 0057 - IRL - July 1987 - no PS, 500 copies



side one (45rpm):
Looking For Strange

side two (33rpm):
Fade (from 1985 Dave Fanning session)
Little Sisters
Notes: Lineup: Frank Rynne (vocals), Colin Byrne (guitar) , Niall O'Sullivan (co-guitar on "Little Sisters"), Pat O'Brien (bass) and Ciaran O'Brien (drums). "Fade" polled #13 in Fanning's Fab 50 in December 1985.



• This City Sucks (live)
K7 - FOAD Records - ??? - January 1988 - 300 copies
Recorded at JJ Smyths by The Recording Company, Summer '87



tracks:
You're Gonna Miss Me
Prophet
Little Sisters
Maggot Express
Gloria
Notes:
Five live tracks recorded in 1987 including covers of the 13th Floor Elevators and Them. The lineup is listed as Frank Rynne (vocals), Daragh McCarthy (bass), Colin Byrne (guitars) and Ciaran O'Brien (drums).



• Sweet Hunger
mini-LP - FOAD Records - FOAD 7 - June 1988 - 1000 copies
Produced by Ian Bryon and Paul Thomas.



side one:
Moonlight
Walk On Water
Save Me

side two:
The Sixties
The Prophet
Looking For Strange (LP version)
Sweet Hunger
Notes: Different recording of "Looking For Strange" which appeared on the Songs For Subliminal Kids EP. Lineup: Frank Rynne (vocals), Colin Byrne (guitar), Daragh McCarthy (bass), Brian Downey (drums).



• Rebel Radio
LP - Santides Records - SAN 0089 - July 1990
Recorded in Dublin and London. Produced by Dave Goodman.

side 1
In La La Land We Trust
The Long Road
Rebel Radio
Subliminal Kid
Bad Motorbike


side 2
Buffalo Stance
Hungry
Cabra West
Then You Die
Whipped And Chained
Bad Bike
Notes: Lineup: Frank Rynne (guitar, vocals), Alex Hooper (guitar), Axel (bass?) and Jeff Nilson (drums). Niall O'Sullivan appears on some tracks.



• Looking for Strange
K7 - Santides? - ??? - 1990
Compilation containing more Goodman produced stuff plus previously released tracks.


• Four Foot Tapping Greats EP
7" - Santides Records - SUE 66 - UK - 1992 - no PS, 500 copies



side one:
The L&N Don't Stop Here
Beans for Breakfast

side two:
Long Black Veil
Folsom Prison Blues (recorded live at the Mean Fiddler Acoustic Room)
Notes: Four Johnny Cash covers, two recorded in mono. The studio recordings were done in two sessions in GLR studios, live to DAT. This EP was released in conjunction with a series of concerts of Johnny Cash covers during 1991 and 1992. Lineup confirmed as: Frank Rynne (vocals, rhythm guitar), Alex Hooper (guitar), Antony O'Neill (bass), Tom Hopper (drums, except "Folsom Prison Blues") and Nigel Preston (drums on "Folsom Prison Blues" only).



• Destroy All Rational Thought
VHS Video - Screen Edge - 1992
DVD - Visionary - 2006
Directed by Joe Ambrose & Frank Rynne
Track: Just Say Yes




Notes:
This film documents The Here To Go Show, an exhibition and festival celebrating the work of William Burroughs and Brion Gysin, staged in Dublin in 1992. The festival was organised by Joe Ambrose, Frank Rynne and Terry Wilson.
The film includes footage of the Baby Snakes performing at the festival (the audio is overdubbed with a track from their last studio recording session). There is also a performance by Agnes Bernelle among others.
The exhibition included works by Mohamed Hamri (who brought Brian Jones to the Moroccan village of Joujouka in 1968) and a performance by The Master Musicians of Joujouka. Ambrose & Rynne became involved with the Joujouka musicians as a result of this festival.




Help!


We need your help to correct and/or complete this entry. If you can provide more information about this band, have scans, photos or any other memorabilia we can use, or spare copies of any releases, then please get in touch.



---

See Also: The Baby Snakes Scrapbook 1986-1990, Those Handsome Devils


---

A-Z Artist Index
Compilations
Record Labels
Media
Help Us!
Contact Us
Resources
Timeline
---