---


A-Z Artist Index
Compilations
Record Labels
Media
Help Us!
Contact Us
Resources
Timeline
---
From: Dublin

Active: 1980-83

Style: Roots Rock

Lineup:
Rocky de Valera - AKA Ferdia MacAnna - vocals
Martin 'The Lizard' Meagher - guitar
Ritchie 'Milkboy' Taylor (RIP) - guitar
The Individual - AKA Eamon Murray - sax/harmonica
Clint - AKA Mark Clinton - bass
Wong - AKA Eugene Levins - drums

Bio:

Modern blues boogie/pubrock band who existed in an earlier incarnation with slightly different personnel as Rocky De Valera & The Gravediggers. Both outfits were lead by singer Ferdia MacAnna, and both were grounded in R&B and 50's Rock'n'Roll and were heavily influenced by Robert Gordon. They toured incessantly and appeared at almost every festival, more often than not towards the bottom of the bill.

After the Gravediggers split in 1979, Ferdia MacAnna, Martin Meaghar and one- time Gravedigger Ritchie Taylor, inspired by the Fabulous Thunderbirds, got together in 1980-81 as the Rhythm Kings. The rest of the lineup was Mark Clinton on bass, who'd previously been in The Great Saturday Night Swindle with Ritchie Taylor, Eamon Murray on sax and harmonica and a drummer named Wong.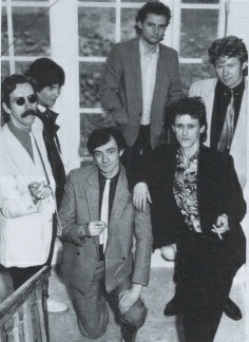 The debut single "Goin' Steady" sold reasonably well. The second "John Wayne" reached #27 in the Irish charts, helped no doubt by a memorable promo video (this video was made by Jennifer Goggin, Gemma Gough and Grainne Gough, who was Wong's girlfriend at the time). When it sold out it's initial run of 1000 copies, Scoff had to repress it in the UK to save money. They tried to save a little more money by pressing 1300 copies but declaring only 1000 on the customs documentation with the result that all 1300 singles and the car transporting them was impounded by customs in Belfast! By the time the singles were recovered the momentum behind it had stalled. There were attempts to get "John Wayne" released in the UK but no UK label showed any interest in it except Dave Robinson's Stiff label, but he wanted it re-recorded because he felt it was badly mixed; this never happened.

The fourth single "Baby Don't You Worry 'Bout A Thing" released the following year was selling well until it was banned by RTE after the band did an interview with pirate radio station Radio Nova, thereby effectively killing it off. Undaunted, the band proceeded with plans to record an album "Setting Fire To My Heart", released in 1983.

According to MacAnna's autobiography, the producer added extra guitar parts without the bands knowledge to try to fill out the sound and when found out and confronted with it he tried to talk them into using them! The album was remixed at Little Russell St in London, engineered by Kenny Jones of Small Faces fame. The result was a very laidback sounding album, not what the band expected and ultimately not something they were very happy with. It was completed in Novemebr 1982, entered the LP charts in Dublin at #4, but dropped out again 2 weeks later.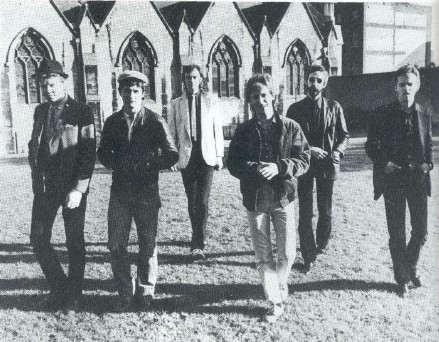 In 1982-83 the band recruited a female singer for backing and shared lead vocals on half dozen tracks named Leslie Dowdall (ex Assembly). Her impact on the live shows was immediate and by all accounts very successful but she was also the cause of some internal strife/competition and they parted ways after the tour. Leslie subsequently joined In Tua Nua. The Individual also quit around this time, in early 1983.

By now the band had stopped rehearasing and writing new songs and was winding down. A 6-month farewell tour was planned for April-September 1983. Shea Stadium quit and his replacement for the farwell tour was Phillip Byrne of Revolver. The band played their farewell bash at the Rhythm Kings Wake at the Baggot Inn on Friday 12th September 1983.

Dave Moloney (ex The Vipers, The Reasons) replaced drummer Wong in 1982; other drummers included Greg Walsh and Eugene Levins AKA Southside Geno Levins AKA Wong (c1981-82). Shea Stadium replaced Mark Clinton on bass in 1982. Phillip Byrne (ex Revolver) replaced Shea Stadium on bass for the farewell 6-month tour in 1983. Ronald Mooney played sax and flute during 1983.
Mark Clinton released solo material and launched Souterrain Records. Martin Meagher, Ritchie Taylor, Phillip Byrne and Dave Moloney were later involved in the Flash Harry's and Wilf Brothers

Ferdia MacAnna has written several books including a reminiscence of his time as a rock & roll outlaw which is well worth reading. He now fronts a reformed The Gravediggers.



Discography

• various artists - Vinyl Verdict
LP - Scoff Records - DTLP006 - IRL - 1981
See Compilations section for full track listing.



tracks: When You're Dancing



• Goin' Steady // Fast Girls / When You're Dancing
7" - Scoff Records - DT008 - 1981 - PS


• John Wayne / Want Ad Blues
7" - Scoff Records - DT013 - 1981 - PS
Entered the Irish charts in November 1981 for 2 weeks, peaking at #27.
There was a video which someone should upload to youtube. Scoff's only hit single?


• Hey Hey Holly / You Broke My Heart
7" - Scoff Records - DT014 - 1982 - PS


• Baby Don't You Worry 'Bout A Thing / Sweettalk
7" - Scoff Records - DT017 - 1982 - PS
Recorded at Lombard Studios Dublin April 1982, produced by Deke O'Brien.


• How Come I Was The Last To Know / Pretty Baby Bop
7" - Scoff Records - DT021 - 1983? - PS?


• Setting Fire To My Heart
LP - Scoff Records - DTLP022 - IRL - 1983 +insert
LP - Magnet Records - MAGL 5065 - UK - 1983



side one:
tracks:
Setting Fire To My Heart
Ain't No Saint
Baby Don't You Worry Bout A Thing
Little Things
Easy Action
Turn Up Your Radio

side two:
She's Nineteen
Private Guy
How Come I Was The Last To Know
54-46 That's My Number
Tell It Like It Is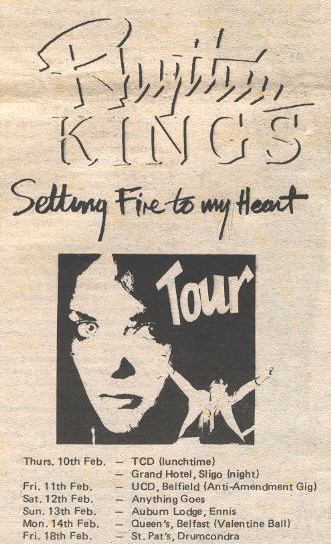 February 1982 Tour Schedule


• Ain't No Saint / Private Guy
7" - Scoff DT023 - 1983? - PS?


• various artists - Stock 'N Trade
LP - Scoff Records - DTLP30 - 1983
See Compilations section for full track listing.



tracks:
Setting Fire To My Heart
Baby Don't You Worry Bout A Thing



• Rocky DeValera & The Rhythm Kings - The Best Of Rocky DeValera & The Rhythm Kings 1980-83
CD - DevRecords - none - 2012 - digipak


Help!


We need your help to correct and/or complete this entry. If you can provide more information about this band, have scans, photos or any other memorabilia we can use, or spare copies of any releases, then please get in touch.



---

See Also: Assembly, Mark Clinton, Flash Harry's, In Tua Nua, Revolver, Rocky De Valera & The Gravediggers, The Vipers


---

A-Z Artist Index
Compilations
Record Labels
Media
Help Us!
Contact Us
Resources
Timeline
---